pigeon Ernest Moffett, Jr. (J.B.)
By: Arif Mumtaz
"We all need a reason to wake up. For me it was a .22-caliber bullet entering my neck, nearly killing me, but it ended up paralyzing me from the waist down," says Moffett. "The night that began my relationship with my death also began my long life as a patient, accepting crutches and wheelchairs as part of my life. But most importantly, that night with that bullet, my relationship with God had started. It sure wasn't my time to die yet, according to God; it was just time for me to wake up and change the way I lived my life. When I was a young man, I didn't do anything outlawed, but I enjoyed fighting in the streets. I wasn't out looking for fights, but if anyone came from outside into our neighborhood and started trouble, I would be the one to defend my friends. I was good at fighting, and it became a habit for me; I can't explain why, but I enjoyed fighting. I always felt God has been in my life, but I wasn't really accepting him in those years," reflects Ernest Moffett, Jr. who was nicknamed J.B., as in "Junior Boy," from his early childhood.
When he was asked what the most important thing anyone should know about him, J.B. said, "That I am happy, and I am a loyal friend. I have a superb wife who's been there for me, good kids, and good friends. I am not rich, but I am rich because I am happy; some people can't understand what I mean by that, and I feel sorry for those people."
When asked what the pigeons' roles in his life were, J.B. responded, "Pigeons helped me, especially when I needed the peace more than anything else during rough times. Pigeons never fought back or talked bad to hurt my feelings. Instead, they gave me their unconditional love. I would go to my coops and feed and fly my birds. I would even talk to my birds, and being with them has always made me a happier man. I love my pigeons. I would never get rid of them, but the best thing about having pigeons was they helped me meet a lot of good people that I now call friends. There are more friends out there that I haven't met yet, but I know having pigeons will allow me to meet them someday. I have found my pigeons as a tool to make other people happy, the way they have always made me happy. Anyone troubled in life should start raising pigeons. Pigeons can connect you with great people and can make you view the world differently. This is why I always try to promote the hobby to everyone, regardless of who they are."
J.B. Moffett lives in Charlotte, North Carolina, a state where comradery and friendship for Birmingham Rollers has been known for many generations. He is the co-founder of the Triad Roller Club and annual Burn Off fly of Charlotte, also known as the Queen City. Many people in this region will proudly acknowledge that J.B. is the reason they have started raising Rollers and joined local and national Roller Clubs, changing their lives forever. Those who have had the privilege to meet J.B. in person are immediately blessed with all that positive and loving energy coming out of his eyes and heart. If he doesn't give you a big hug when you first meet him or if you do not like J.B. for some reason, then there is something definitely wrong with you! If you don't feel like you have known J.B. your whole life within the first five minutes of meeting him, again…something is wrong with you. People like J.B. wake up every morning with the hope of seeing a better world; they get great pleasure out of seeing people do well and succeed in life. J.B. is known to have that influence among his friends not only in his neighborhood but also everywhere else.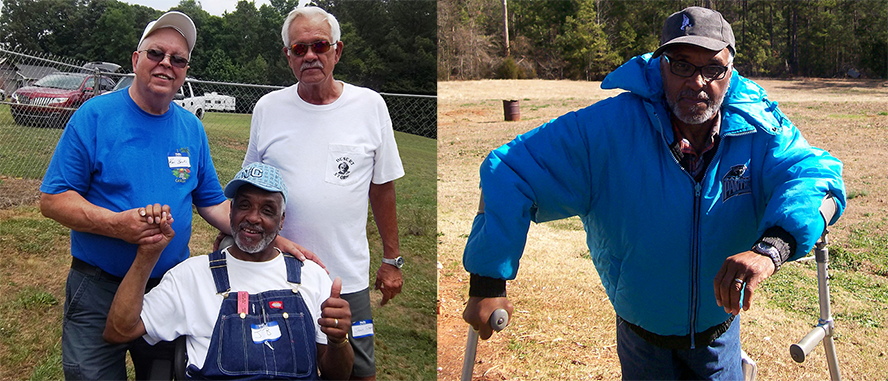 Left - J.B. with Ron Banks and James Turner. Right – J.B.
J.B. Moffett has many Roller friends all over the U.S., even though most people don't know him because he doesn't fly Rollers in competitions to earn recognition from his winning records. But guys like J.B. are the true emissaries of the sport for helping and promoting the hobby all their lives. J.B. doesn't let a small obstacle like a wheelchair stop him from enjoying life to its full potential. J.B. is a true ambassador of promoting goodness and prosperity for everyone around him, teaching them the importance of appreciating what they have, instead of chasing after what they could have. J.B. is known to be a great role model for many Roller breeders, teaching others how to acquire lifelong friends, and connecting with people from any background using Rollers as the common denominator. Because of these qualities J.B. has always been, and always will be, an asset to the Birmingham Rollers community.
It seems the predominant way Roller men become known to their colleagues in the roller hobby nowadays is either by competing in the NBRC National Championship and/or the World Cup, holding an office in these national and international clubs, developing a known family of Rollers, or being proactive in Internet forums. J.B. does none of that. Yet we feel blessed by having very special guys like J.B., who are our good friends, near and dear to our hearts and to anyone who knows them. What most of us tend to forget is that the main qualification to become a hall of fame inductee is not a winning score but an unconditional love and devotion to his chosen field. Participating in competitions and winning a couple or two should not, by itself, be good enough to make an individual famous and to be in hall of fame. Over the years, the meaning of "fame" has changed from its original meaning, "renown," as opposed to today's more common meaning of "celebrity." The definition of celebrity varies depending on who you talk to, but guys like J.B. are recognized and treated as more than a celebrity wherever they are present—because they are considered true friends. In addition, guys like J.B. hold far more important qualities than just a statistical winning data: Their worldview impacting and influencing the global community of Roller hobby is qualitative instead of quantitative.
"A warmer, more caring, human being than J.B. cannot be found," says Cliff Ball, current NBRC president.
"J.B. is a well-respected person who has done nothing but help others with his generosity and guidance for years and years. He represents all the qualities an ideal Roller man ought to be," says James Turner, an NBRC hall of famer."
"J.B. has never met a stranger in his life. He makes everybody feel welcomed, wanted, and loved the minute he meets anyone. He loves his birds, yet he is very generous sharing his best birds with anyone. Very few in the hobby are as companionate, sincere, and loving as J.B.," says Ron Banks of Ohio.
"It's hard to describe the qualities of J.B. because he simply has all of the traits that send him above and beyond many people in the hobby. He is one of the most generous guys around here who is determined to help others and promote the hobby," says Jay Yandle, a former NBRC president.
"If you are in the Roller hobby, you are not only dealing with your birds but also with people. This is what makes J.B. very special. He is a people person. He strives to connect people and does everything he possibly can to make people happy and appreciate what they have got. There is always a spotlight upon J.B. wherever he goes. You don't have to look hard to feel that and see that," says Charlie Stack of Benson, NC.
"He is one of my best friends and a role model," says Joseph Mitchell. "You will not find a better spirited person in this whole world. He may not have much, but he is one of those people who will take his shirt off and give it to you, just to see you smile. But if I were asked to describe him in one word, I would use the word unselfish. One time I've lost all my birds, and J.B. somehow heard about it. Next thing I know he showed up at my door with two young kits for me to start over. That's the kind of person J.B. is. Every January 17, on my birthday, I organize a fly called North Carolina Roller Jamboree. People from all over the Eastern Coast of the U.S. would be there, and J.B. has always been the center of attention in this fly. I wished my other friends from California, where I am originally from, could have a chance to meet J.B. as well. I hope every region has their own J.B. to help promote the hobby."
For all of the admiration of others and for many more who feel the same way about him, I have recommended J.B. Moffett for the NBRC Hall of Fame. I felt that his unique personality, his hard-working nature, and his willingness to help others have always been assets to any club or organization. Thus, J.B. truly deserves to be a Hall of Famer.
Arif Mumtaz
NBRC 2D Regional Director
Dec 11, 2015.