James was introduced to the local clubs and Roller competitions in his early forties. He refers to the period before this time as his "backyard flying years." "Before I met Larry Pridmore and acquired his pedigreed Pensom birds, a guy named Paul Porter, who was from Orangeburg, South Carolina, would come by my house every so often with his pickup truck carrying full crates of live poultry animals. This was the same guy that Tony bought the mother of Shooting Star from and called her the Orangeburg Hen. Anyway, when Paul came by, if I had any Rollers that I wanted to get rid of, Paul would trade me some. Most of these birds that I got from him were not banded. There were also few other local pigeon breeders that I bought or traded birds with, but for the most part I wasn't close friends with any other pigeon guys around where I lived. I mostly flew my birds for the family and friends and some of my co-workers, who came over for BBQ. None of these people knew anything about pigeons; I would just fly my Rollers and show my guest how pigeons rolled. At that time, I didn't have many pigeon breeders living around me to share my passion with nor would I have time to meet new folks. But, when I was about 36 years old, I was promoted to plant engineer, and that's when I started to have more free time for my pigeons and other outdoor activities, like shark fishing. When I became a plant engineer, I didn't have to work close to 60 hours a week anymore," volunteered James. "That's when I started to take flying Rollers more seriously and joined a local club."
According to Larry Pridmore, South Carolina has always been very rich with pigeon clubs. The Carolina Pigeon Club (CPC) is the oldest all-breed show club in the southeastern United States that still exists today. Established in 1940, the CPC membership has included Wendell Levi and Harold Moise (Palmetto Pigeon Plant), Irvin DeGaris (Modenas), D.W. DuPont, James Goethe (Kings), and many other well-known fanciers. In addition to CPC, in the late '50s or '60s Palmetto Roller Association (PRA), one of the oldest Competition Roller clubs in SC, was formed. Members of PRA were predominantly Greenville, South Carolina, area fliers but this club would have pigeon shows as well as competition flying. In the early '70s, each PRA member would fly one kit for 20 minutes with a break so the judge could rest his neck and eyes after the first ten minutes. Participants would normally fly 13 bird kits in these local competitions, and according to Larry Pridmore, this club was strongly affiliated with the United Roller Club (URC). Well-known local fliers like John Castro, Tony Roberts, Frank Painter, and Jack Medlin were members of the PRA, which according to my research, was the first Roller Competition Club of the region. Piedmont, Carolina, and Foothill Clubs, which were solely Roller Competition clubs, came into existence much later, but South Carolina breeders always had good competition and show pigeon clubs since at least the '40s.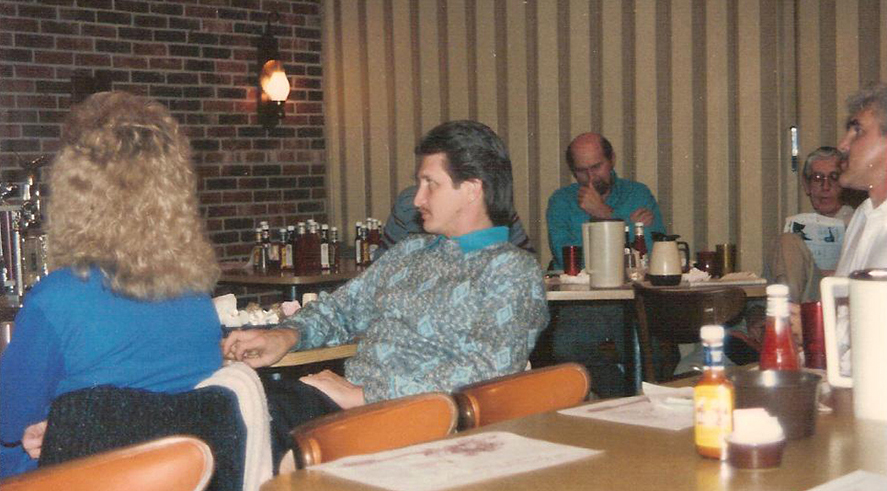 Lary Pridmore enjoying one of CPRC banquets.
When James first met Larry Pridmore, Larry told him about the local clubs and invited James to join the Carolina Pigeon Club. This was the first pigeon club James joined, and he was surprised to see his old friend Tony Roberts in one of the CPC shows. This is where James also found out about the local Roller competition clubs, but it wasn't until 1987 that James's competition experience began. That year, James finally decided to join a flying Rollers club to compare the performance of his Rollers against those of others. At that time, James still had Pedigreed Pensom birds that he acquired from Larry Pridmore. "These birds were good spinners, but as a backyard flier, I had no idea how to properly feed and fly them in competitions. There were days that my birds would fly a couple of hours and sometimes more," remembers James. When he heard his friend Tony Roberts had been flying and competing with the guys where Tony lived, James decided to join their club. James thought at least Tony would be there to show him the ropes if he needed any help since James didn't know anyone else in the area who flew Rollers competitively. Ironically, James didn't realize that at that time, there were two competition clubs in that region, and James joined the Piedmont Flying Roller Club (PFRC), thinking Tony Roberts was also a member of PFRC. However, Tony and a couple of his friends left the PFRC and formed their own club a few years before James joined PFRC.
Tony and his friends called their new club the Carolina Performing Roller Club (CPRC). This club did not have any affiliations with the Carolina Pigeon Club, which is only an all-breed show pigeon club. Founded in 1984, CPRC had many known charter members: Bill Allen of Asheville, North Carolina, Ken Barnwell of Fletcher, North Carolina, Ronnie Brown of Liberty, South Carolina, David Dixon of Calhoun Falls, South Carolina, Ed Garrett of Pisgah Forest, North Carolina, Lila Gilmer of Pelzer, South Carolina, Keith Holcombe of Pelzer, South Carolina, Jimmy Lingerfelt of Vale, North Carolina, Hack Pridmore of Greenville, South Carolina, Tony Roberts of Piedmont, South Carolina. John Simms of Clemson, South Carolina, Bob Simpson of Skyland, North Carolina, Mark Speagle of Lincolnton, North Carolina, Bob Welborn of Greenville, South Carolina, and Irene Wood of Pelzer, South Carolina.
Sadly, James Turner and Tony Roberts never had an opportunity to fly against each other in local Roller competitions. However, as many other local Flying Roller breeders, they both raised Parlor Rollers, and that's the only friendly competition they have had against each other. James remembers the disappointment when he found out Tony was no longer a member of the PFRC. James recalls that he wanted to join Tony's club, the CPRC, so he could fly with Tony, but he resided out of their boundaries, since James lived an hour south of Tony Roberts. In later years, however, James did join the CPRC as an honorary member and watched them fly their regional competitions.
Piedmont, the first competition club that James joined, was formed around 1980 when the South Carolina Roller fliers decided to form a performing roller club, fearing that many breeders in the region were leaning towards raising show rollers. According to Don Greene, John Castro was basically the man running the PFRC. "We had about six to eight competitors. I was the president of PFRC for a few years, but at that time, there was also the Carolina Roller Competition Club. Both Tony (Roberts) and I were in the Carolina Club at one time, too, and that's the only time I competed against Tony. This was before I met James. Tony, Don Simpson, and Bob Wellborn were the flying members, and Bob Simpson was a charter member; Bob Simpson would come to watch us from North Carolina," recalls Don Greene.
The judging of the birds in these local clubs was different from the rules of the present-day NBRC and World Cup flies. In the PFRC for example, any spin was given a point, but no points were given to a bird that did not roll correctly and rolled shorter than 20 feet. If the bird went more than 35 feet, it was given two points. "Reasonable spin was one point, and deep spin was two points. You could always argue what was deep, but we didn't score any 10 to 15 foot rolls. So a bird can get one point or two points depending on the depth," recalls James, "as long as they rolled with quality." Although in the Carolina Club they flew 10 birds, in Piedmont Club, members flew 11 birds for 10 minutes. "The reason we flew them for 10 minutes is because of the way the fly times were stretched out. We flew on the third Saturday of every month, and somebody had to fly in the morning, while somebody flew in the afternoon when it was really hot and humid. So, in order to give everybody a halfway decent break, we flew them for 10 minutes, and there were no timeouts allowed for BOP or bad weather. Another reason why we did this is because back then, these birds not only had to spin, but they had to spin deep to be scored. So they had to hit it, and hit it hard, and that made a difference about how long they could fly," remembers James.
As a side note, around the time James started to compete with his Rollers, he was also educating himself in pigeon genetics more seriously than ever by reading genetics articles and Joe Quinn's pigeon genetics book. In addition, around the same time he joined the PFRC, James also joined the National Birmingham Roller Club (NBRC) and started to meet with the NBRC representatives in Louisville, Kentucky, at the National Young Bird Show. Hence, it would be fair to say that the late '80s is when James got really serious in getting involved with local and national clubs, competition flying, and pigeon genetics—things that he had been doing as a hobby since he was 6 years old but mostly on his own.
In PFRC, among many fliers who joined and left at some point, James met core members like Don Simpson, Don Greene, Frankie Reece, John Castro, Mike Richey, and a few others. James remembers joining the PFRC about seven years after the club came into existence, but he did not fly with them during the first year he joined. Not knowing what they were looking for, he decided to see how they flew their birds, what the rules were, and what kind of quality they were scoring. He went to every fly they held that year and just observed how the local guys competed and judged Rollers. James remembers watching everything that they were doing with their Rollers, asking questions of others, and trying to learn from them, but he was baffled by getting very few answers and help from most of them. He saw that they flew their birds from what they've called a kit box, something James never heard of or used as a backyard flier. "First time I saw them releasing their birds from the kit boxes, I knew I didn't know anything about flying Rollers," recalls James. That year he studied how they were releasing the birds, calling the time in for judging to begin, and how they judged them in the air, etc. He learned how to properly score them and what the birds were supposed to be doing in the air to earn points, and within a few flies, James got a pretty good idea what it took to win. That year, James built himself kit boxes for his birds and learned to manage his birds better, using proper feeding methods.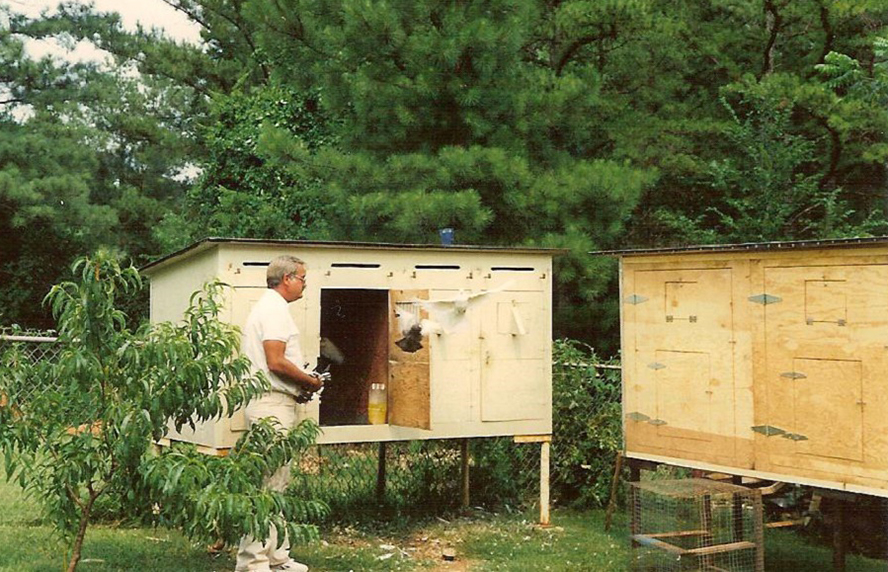 1988. James is releasing his birds in front of his first ever kit box.
The first year James joined the club, among the birds belonging to other members, he liked Don Greene's birds the best, performance-wise. James remembers watching Don's birds with admiration. "Compared to the rest, Don's birds weren't kitting well because they were too fast, too deep, and too frequent; they were, however, absolutely fun to watch," reminisces James. According to James, Don Greene was also one of the most generous of them all to help James get started. When James saw Don Greene's birds fly for the first time, Don sent James home with a couple of youngsters. Most other members did not want to share their best stock of birds with a newcomer or with anyone else locally, for that matter, for the sake of winning the competitions. "The others," James thought, "wanted to win at all costs. They would not help anyone else by sharing good birds or even good information. I never forgot how I was treated by some of them when I first joined. It was very discouraging. It frustrated me even more when I saw the local guys giving their good birds to people out of state, who would not be competing against them. But, Don Greene was different. Don wanted to help me right off the bat, and I never forgot that. This is why when I got into the position that I could help others, I returned the favor for Don and helped many others start with good spinners. Early on, I'd decided that I would never treat anyone the same way I was treated when I first started. When I was able to help others, I've always given them my best birds; my philosophy was simple: when you give somebody birds to help them, if you don't feel you are hurt, thinking you just gave some of your best birds away, then you are not really helping that person," reveals James. "I remember the times when I asked the others how they were feeding their birds. They would just say, 'It doesn't really matter what you feed them…' So I knew they didn't want to share that information with me, especially when I would overhear them talking about the importance of feeding. So, it was challenging to start for a newbie like myself to compete, but what they didn't know is that I live for challenges. So they actually helped me by not helping me, if you know what I mean. I took their behavior towards me as a challenge and learned how to breed, feed, and fly Rollers so that I could beat them in competitions. Within a few years, I started to do real well and started to be one of the top contenders locally. When I started to win, these same people who did not help me in the beginning, would ask me how I fed my birds. You know what I told them then, don't you? I said, "It doesn't matter what you feed them," recalls James with sarcastic laughter. "When I saw these local competitors not mind sharing their good quality birds with the outsiders, but not with the local newbies is when I realized some people were in this just to win, and winning was the only satisfaction they got out of the hobby. There is absolutely nothing wrong with being competitive and wanting to win, but not helping a newcomer because they feared the newbie might beat them with their own birds seemed immoral to me," recalls James. "This is probably why, when I was able to help others, I always gave them my best birds to encourage them and not to discourage them from the hobby and competition. But I also think this attitude that I received from the others in the beginning motivated me to work harder and be a better competitor," reflects James.
In that first year that James didn't fly, James was happy that it was Don Greene who helped him to get started since he liked Don's birds the best. Towards the end of that year, just watching and observing, James decided that the performance of Don's birds was what he was looking for. So, he asked Don Greene if he could borrow some good cock birds, which James was lacking in the beginning. This is when Don allowed James to borrow some of his best breeding cock birds—6878 and 929. "I wanted to borrow a couple of cock birds from Don because for some reason, I couldn't raise good cocks out of my original Pensom birds to use them as breeders. In fact, even today, I still raise more good hens than cocks; I can't really explain why that is. But I went to Don and asked him if he could give me a few of his best breeding cock birds," recalls James. Don Greene, who called his family the Thompsons, wanted to make sure that James could breed good birds to compete against others from the get-go. James also acquired six birds from Tony Roberts in the beginning. One of these birds that James acquired from Tony was the 922 hen (dark tort), which later became one of James's foundation birds. Combining the birds he received from Don and Tony and interbreeding them with his original Pensom birds, James was ready to build his own family and improve the quality of his birds, utilizing his previous animal husbandry experience, his genetics knowledge, and his curious and competitive personality.
In his first year joining the PFRC, puzzled with the lack of information he received from most members, James also remembers talking to Tony Roberts and asking him how Tony fed his birds for competition. James did not understand why anyone else besides Don Greene was helping him. After all, it was only a hobby. "If you don't want to tell me, I'll understand," James said to Tony, projecting even his good old friend may not want to share the so-called secrets of flying and feeding Rollers for competitions. Tony, of course, told James everything he knew pertaining to preparing Roller kits for competition. James experimented with what he had learned and observed, and over time perfected the way he fed and prepared his own birds for competitions.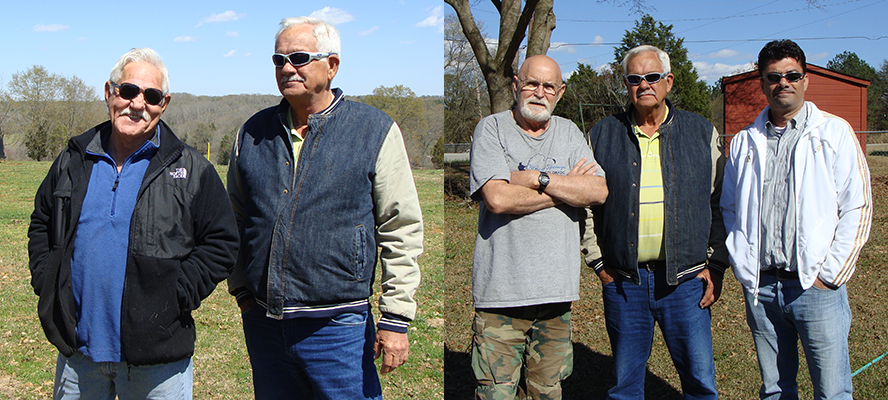 (Left Picture) March 2015 - Don Greene and James Turner standing at Don Greene's backyard.
(Right Picture) March 2015 - Tony Roberts, James Turner, Arif Mumtaz standing at Tony Roberts' backyard.
James sadly admits that in those years, he didn't see or visit Tony much, but James remembers how well Don Greene and James always got along ever since they had met, even though both James and Don were as competitive as they could possibly be. "I think one of the reasons Don and I got along so well was because we both had one thing in common: we didn't want to win because somebody else had a bad fly day. We both wanted to win when others had their best fly days," James acknowledges. "We also made sure anyone who wanted good birds could have access to them so that we competed fairly. I think because of our like-minded thinking and because of our similar personalities, Don and I were the closest friends among the whole bunch. Don has a unique personality that makes anyone feel like he had known him for years after the first few minutes after you met him. I got along with others and enjoyed their company, too, but Don and I clicked right away in that club, and we've remained friends ever since."
The first time James competed in a Roller competition was 1988, starting with the PFRC. James remembers flying some good birds that year that he originally acquired from Larry Pridemore. He also flew some babies he produced out of the birds that he acquired a year before from Don Greene and Tony Roberts. James remembers winning only one fly in that first year of competition, but at the end of the year, he was placed high in ranking in overall competition points. June 10, 1989 was the last time James flew with the PFRC, quitting in the middle of the flying season about a year and a half after he started to fly with them. James and a few of his friends, disenchanted by the way PFRC was conducting club activities, including but not limited to unfair fly times, decided to leave and form their own club, just like Tony and a few others had done a few years earlier. It seemed that some member's craving to win at all costs and their egotistical personalities pushed away the other fliers who were in it for fun and sportsmanship.
James and his friends called their new club the Foothills Competition Roller Club (FCRC) since they lived in the foothills of South Carolina. According to James, this new club didn't have many members in the beginning, but it turned out to be a very successful club. According to Bob Simpson, the membership of FCRC possessed great integrity and quickly emerged as one of the country's finest Roller Clubs in every respect. There was strong kinship immediately as all the members competed head-on in other local clubs, knowing each other well and realizing the quality of their counterpart's program. The FCRC fliers conducted four contests in the latter half of 1989, the club's inaugural season, with a full slate of eight in the following year to take them headstrong into the '90s. For the members who had previous club experience, the main difference between FCRC and other clubs was that FCRC members decided from the get-go that these rules were very clear; there can't be any exceptions made to them. The very first thing they did in FCRC was to establish a fly route that would rotate from month to month, giving each flier an equal opportunity to win by allowing them to fly at different times of the day, regardless of who they are or what their experience was in flying competitions.
The core charter members were: Debby and Joe Fehr of Easley, Don Greene of Easley, Karl Weyermann of Easley, and James Turner of Greenwood. Soon after, Don Simpson of Anderson and Larry Williams and Johnny Rhoads of Johnston joined them. In later years, other local fliers like Ronald Bearden, Jimmy Como, Tootsie Lanford, J.W. Mize, Mike Richey, and Dale Taylor also joined and flew with FCRC. When John Sims (a professor at Clemson) left the Carolina Club and after Bob Welborn passed away, Carolina club was shut down. That's when some of the Carolina Club members like J.W. Mize joined the FCRC. Tony Roberts was burned out, and he didn't want to participate in competitions anymore. James remembers many other people joining the FCRC in later years, but the names mentioned above were the core members of the club. FCRC existed from 1989 to 2003.
"FCRC, after everything was said and done, wound up being the club that accomplished more than any other club in this region," James proudly claims. "The main reason was that core members started the club without any conflicts or personal agendas. As time went on, just like anything else, it raised its ugly head and eventually dissolved, but it was the club to fly Rollers. It was a great atmosphere to be in this club where a bunch of friends got together on Saturdays just having a good time, flying Rollers. That's the way it started out and remained that way until almost the end. That's what I enjoyed the most about that club; we all wanted to win, but we were still friends who were free of politics, free of hard feelings, and any selfish agendas. The competition was also stiff. It was never a given win, and we all flew good birds back then where people traveled from all over the world to watch our birds fly, especially when we participated in the Backspin Classic."
In FCRC, they would start the flying season in April and fly every second Saturday of the month. In the last month of the season, October, they would only fly the young birds and called it the "Young Bird Championship." Although the winner would be honored with a separate trophy for the young bird fly, the scores that each flier got in the young bird fly would still be added up to the year's total championship points. After a while, they stopped flying the young bird championship because of the hawks. At the end of the year, whoever accumulated the most points from monthly flies would be declared the winner of that year. Over the years, there was a tie in scores twice between James Turner and Don Greene, in 1993 and in 1994. However, because of the hawks, they did not hold a final round for the finalists for those years; thus, in '93 and '94, first place was shared by Greene and Turner. The way each flier earned points was based on their placement and not based on the total scores of each fly. After each fly, regardless of what the birds scored, the winner of the month would get 10 points, second place would get nine points, and third place would get eight points, etc. They had decided to award winners with this system so that, even if a flier had a very bad fly day, he/she would not fall too far behind with a ton of points, which would then be impossible to catch up in later months. This point system encouraged all fliers to participate year after year because it allowed anyone to win or place high in rankings even if they had a couple of bad fly days. James remembers that there were really good fliers in this club, and some months neither James nor Don Greene won, but in the existence of FCRC, there were no other winners besides James Turner and Don Greene when all championship points were added at the end of the year.
When they formed the FCRC, they used the same judging system that they had been using before, but in the second or third year, club members decided to change the fly rules. The 20-bird fly had never been promoted in the Carolinas because as far as the fliers were concerned, it was hard enough to keep an eye on the quality of rolls for 11 birds. They also did not like or agree with the 20-bird rules, so the majority of them did not participate much in 20-bird flies, and consequently in the World Cup Fly. In FCRC, they tried several different things until they all agreed on what they wanted their birds to do in the air. Their main goal was to promote the good bird's performance and promote an ideal kit. They decided to forget about what they were flying; instead, they focused on what they would like to fly. They figured if they changed the fly rules, they could promote the maximum performance and quality of their birds. They all agreed that in order to get their birds to do much more than what they had back then, they had to score them differently. They wanted their birds to kit, too, in addition to deep spins with quality and frequency, but they had also realized that these deep birds may have as hard a time to kit as those short birds. Thus, instead of losing the quality of depth while maintaining velocity, they have decided not to put too much emphasis on the kitting as long as the birds in the kit were working together.
But the first thing they tried was a 100-point scoring system which didn't work well. During a fly, everyone who was present would be judging even their own birds. They rewarded from 1 to 25 points in four categories: kitting, breaking together, spin quality, and depth. The points gathered by the panel for each category would then be added up and divided by the number of judges to get an average score for each category. James recalls this system being a disaster. They realized the problems with this judging system after the very first fly, but since the system was voted in, they ended up completing the year with that system.
The following year, James came up with a new scoring system and presented it to the members. It was a mathematical progression to award birds rolling in unison. This system got a unanimous vote of approval when it was presented and continued to do so year after year. According to James, all the members seemed to like it because no one ever mentioned changing anything about this system.
One of the things the scoring system did was to allow fliers to manage their team within a given period of time. So, they changed the fly time to 20 total minutes including the release time and the time-out within that 20 minutes, but they only scored 10 minutes of a total possible 20 minutes. Once the flier released his birds, his 20 minutes of judging time began. He had five minutes to call the time-in. He could call time-in any time within the first five minutes after releasing the birds or the five-minute mark. If the flier called time-in at the fifth-minute mark, he now had 10 out of 15 remaining minutes for judging. If the flier, at his discretion, called a time-out for five minutes after the time-in was called, he now had five more minutes of judging out of 10 remaining minutes. Thus, out of 20 total minutes, the flier decided which 10 minutes he wanted his birds to be scored. This unique system gave the flier a lot of room to manage his team during the fly when he can start the clock and take a time out within 20 minutes. This way, the flier can choose the best 10 minutes out of the 20 total minutes, projecting what his birds will do on that day.
Although it wasn't written anywhere, in this system the minimum depth was 20 feet since back then they all flew deep birds. All the fliers would agree that the average depth of kits everyone flew was about 30 feet and more. So, they didn't put too much emphasis on depth since the expected depth was at least 20 feet and most birds rolled deeper than 30 feet in this region. Thus, the expected depth was never argued or became a problem in this region. People in this region liked and flew 11-birds for that reason since they all had the deep and fast Rollers. They did however, reward exceptional speed and exceptional depth bonus points to the kits that averaged 40 feet and above, but that was rare, according to James. This system was also never based on a 20-bird fly and would not have worked for 20 birds since they only scored high quality spins, so the really big breaks were not that many. This system mainly focused on the teamwork. The bigger the breaks, the bigger the bonus points were rewarded to promote kits working together. In other words, individual birds still earned their respective points with regards to how deep they had rolled correctly. However, if a number of birds rolled together, they earned additional bonus points for working collectively. They thought there must be a difference between the points given to a bird rolling individually versus two or more birds demonstrating the same quality of spins together. Hence, the teamwork is awarded bonus points, depending on how many birds rolled together during a break.
If one bird rolled, it earned its respective one point as before. However, if two birds rolled together, then the reward was three points: one point for each bird for spinning the minimum expected depth with quality and an additional bonus point for doing it together. If three or more birds rolled together, then they added the old bonus points with the new ones to award bigger breaks. For instance, if three birds rolled, they earned five total points: three points for three birds spinning, just as before, but one additional point for three birds working together and one old bonus point from the previous two bird breaks. So, if four birds rolled together, they earned eight total points: four points for four birds, two old bonus points, and two additional new bonus points. In other words, for each additional bird rolling together, it earned them one additional point. These bonus points increased mathematically for three or more birds working together. One point for three birds, two points for four birds, three points for five birds, four points for six birds, etc. In addition to the new bonus points, the old bonus points from the previous number of birds were also added to the total points earned. Hence, during a fly, the judge called out the number of birds that broke together. Then they calculated the points based on the number of birds broke.
The following picture is the explanation of this new scoring system: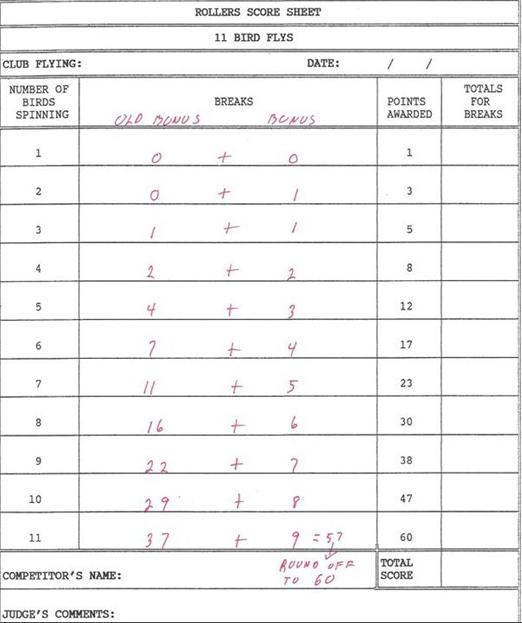 The following is the fly rules of the new system:
| | | | | | | | | | | | |
| --- | --- | --- | --- | --- | --- | --- | --- | --- | --- | --- | --- |
| Birds Spinning | 1 | 2 | 3 | 4 | 5 | 6 | 7 | 8 | 9 | 10 | 11 |
| Points Awarded | 1 | 3 | 5 | 8 | 12 | 17 | 23 | 30 | 38 | 47 | 60 |
While only the quality spins should be scored, a multiplier of up to 1.5 can be used to reward exceptional spinners. The kit can also be rewarded for exceptional depth, also with a multiplier of up to 1.5. The multiplier should be used sparingly (1.5 should be a kit of champions).
The following rules apply:
Eleven birds will be flown.
It takes nine birds to be considered a kit.
Birds will be scored for ten minutes.
The loft owner will have 5 minutes after releasing birds to call time-in.
At the contestant's discretion, there will be one time out of up to 5 minutes allowed.
If an extra Roller or Rollers joins the kit, the applicable percent of the total score will be deducted. Stray non-Rollers will not be considered. The judge makes this determination.
While each judge will score the birds individually, the multiplier used will have to be agreed on by all judges.
There will be a fly fee of $3.00.
There will be an award for a 1st place finish.
There will be a trophy for the young-bird fly which will be held in November.
There will be a championship trophy.
Flying members who cannot fly need to contact the fly coordinators or any other flying member who will be in attendance. Without notification, we will go to the person's loft one time only.
From then on, that was the scoring system and the rules they used. Most of the club flies were judged by outsiders. Tony Roberts, Ellis McDonald, Gregg Truesdale, Dominque Cirri were among the well-known judges invited. When they could not find an outside judge, they'd either ask one of the club members to judge that day, or they all panel-judged each other's birds. When they panel-judged their own birds, they threw out the highest and the lowest scores. Then they averaged the remaining scores, which was the only fair way of judging.
James doesn't like to talk about his winning records much because he feels winning records by themselves don't make anyone a good Roller man in the hobby. "A good Roller man should be judged by his contributions to the hobby, not by how many master flying points he accumulated over the years," James would say. He would rather have somebody else talk about the quality of his birds. His humble personality would not allow him to talk about how many flies he won, so I had to dig up some fly reports from those years. The following are the FCRC's July and August fly reports which were written by Don Greene and published in the September 1991 Backspin newsletter. Notice the colorful personality of Don Greene in his report and the tough competitors that James flew against back in the early years of the FCRC's existence.
---
Foothills Competition Roller Club Fly Report (JULY)
About 7:30 AM we begin to assemble at the home of James and Vickie Turner. We were very happy to have with us Toby and Linda Brady from North Carolina. Also Bruce Moore, Shayne Castro, and Marty Wood's son. Later at Don Simpson's house, we were joined by John Castro and Frankie Reece. Also present were Frankie Toolie & his mother and father, James & Vickie Turner, Karl Weyerman, Ronald Bearden, Tootsie Landlord and myself.
1. First to fly on this hot July morning was James Turner. The temperature was about 80 degrees with no wind present. The only problem with fly conditions on this day was the low-pressure system, which moved into the area the night before and caused some of the birds to deviate from their normal flying pattern. As a whole, James's birds worked very well under these conditions. Remember guys, it is July in the South, and this means hot, hot, hot and in retaliation, the birds seem to loose feathers, maybe to stay cool. Well, need I say it? James won another one even though it was very close between the first three positions. This doesn't seem to count among pigeons. At this point, James seems to be making his move for another club championship and a well-deserved honor at this time. It is very hard to describe James or his birds without using such words as great, outstanding, super, or even excellent. I think that this pretty well describes it. It is very hard to beat a winner. Congratulations, James!
2. Next to fly was Tootsie Landford and Jimmy Como. The time was approximately 9:30 AM, and the temperature was approximately 85 degrees, still no wind. After release, the birds began to work very well, showing some outstanding spins, but unfortunately after a brief period, they began to drift away and later broke up, and this, of course, ceased all scoring. If these birds had stayed home, the outcome may have been different. Better luck next month, 5th place.
3. After leaving Tootsies, we drove to Karl Weyermann's. Temperature was climbing, but conditions were still fairly good. When Karl released his birds, they went to the right height and kitted well. The only thing that he forgot to tell them was to spin-spin-spin. Sorry, 6th place.
4. Next came my turn. Like earlier, the conditions were the same. After releasing the birds, they flew at the right height and kitted well. The only thing missing was working together. I can't always remember to tell them everything. Oh, by the way, Don Simpson asked me not to tell everyone that I flew a 1991 kit. So out of respect to him, I am not going to tell you, 2nd place.
5. Then came Ronald Bearden. Upon releasing his kit, they tried to fly low for a few minutes then went up and kitted well with one exception. One bird put on a very scorable spin but went through the tree and refused to return to the kit. His birds had same good action with a lot of promise for the future, 4th place.
6. Last, but not least, was Don Simpson. At the very beginning, Don had problems. One bird put on a nice spin, but like Ronald's, it stopped in the tree. As if this were not bad enough, another one left the kit for about six minutes out of a 10-minute fly. Eventually, both birds returned up to this point. Don's birds were working but not up to last month's performance. When those two birds returned, it was another story. It was like their leader had returned and the gang began to work. Unfortunately, there was not enough time left, 3rd place.
7. Last scheduled flyer was Mike Richey, but he was not able to join us on this day. Mike, we missed your company. Hope you will be able to join us in August.
Next fly August 10 – 8:00 AM. Starting at Don Simpson's Sandwich Inn.

Foothills Competition Roller Club Fly Report (AUGUST)
At 8:00 AM, August 17, the Foothills Competition Roller Club met at the Sandwich Inn in Anderson, South Carolina to begin its monthly competition. Present were Don Simpson, James Turner, Ronald Bearden, Tony Roberts, Bob Bollinger, J.W. Mize and yours truly, Don Greene.
1. First to fly was Don Simpson. Unlike other months, his birds were the most active participants of the day. Unfortunately, the frequency took away from the overall quality of the performance. Not meaning that his birds didn't do well because when the day came to close, he was tied for 2nd place. If Don's birds had shown their usual quality added to the frequency, no one in the country could have beaten him. As many of you know, if it is not at least close to perfect, it doesn't count. After all, this is not horseshoes. Maybe this is a clue that we should examine more closely. Can very frequent birds display the same quality or merely the excitement? Congratulations, Don. You still had a large number of very scorable birds. Tied 2nd.
2. Next to fly was Ronald Bearden. Ronald's birds flew at a good altitude and insight. Only one bird refused to fly, and another refused to spin while in the kit. With Ronald's dedication and competitiveness, we better enjoy August's performance because he will make us live hard in the months and years to come. 5th place.
3. After leaving Ronald's house, we drove to my home. When the birds were released, they were almost a carbon copy of last month. Spins were of good quality. They were also fairly frequent, but again, they wanted to spin one at a time. If anyone out there has the answer to this, please call collect! 803-855-5465. Tie 2nd place.
4. Next was Karl Weyerman. Karl was unable to attend, but we didn't let this stand in the way. We missed him so much that we went by and flew his birds. Karl put on a good solid performance. No telling how good he would have done if he had released the right birds. Congratulations. 3rd place.
5. After leaving Karl's, we drove to Tootsie Landfords. Tootsie was feeling a little under the weather but wanted to fly anyway. His birds kitted well but lacked frequency. Also, he had a couple of his best birds out of the kit due to injury. Like Ronald, enjoy it. We haven't seen the last of Mr. Landford and Mr. Como yet. 4th place.
6. Last, but not least, was James Turner. Just read my last month's fly report. I think I will just use it in the future. What can I say? HE WON AGAIN!!
CONGRATULATIONS, JAMES!!!!!
September fly begins at 8:00 AM September 14th at the house of James Turner.
---
James recalls the good quality of Rollers flown in the region by the locals and how hard he had to work to win each fly. "No win was given in FCRC—you had to earn it because we didn't score junk. Soon after I started to fly Rollers in competitions, Don Greene became my toughest opponent with regards to flying Rollers," says James. "If I didn't win a fly, Don Greene did, and if Don didn't win a fly, I did. There were only a few occasions that other members won a fly, but I remember how much fun I had competing against Don Greene for a period of good 14 to 15 years. During a fly day, I would never claim a win no matter how well my birds scored until Don Greene flew his birds. I remember that one year Don was lacking birds to fly in his kit box, and I gave him four or five birds to complete his kit. That year, Don beat me with the birds that I gave him, and I was perfectly okay with that. I simply didn't want to beat him because he was short on birds; I would not have enjoyed that win. Don is a really good competitor and a really good friend of mine, and we always made sure we both have good birds to fly against each other so that winning was more fun and meaningful. The best part about those years was we were always having fun and joking around most of the time, but we were also always harder on criticizing the performance of each other's birds. Don is one of those people who will not score junk, who will not fly junk, and he will tell you straight up if you ask him a direct question. I do not know a better critique or a harsher judge than Don. Don Greene knows the good quality of spin when he sees it, and he will not score anything less than perfect. He will come to your backyard and score your birds, and he will never be rude to you no matter how your birds scored. However, if you think the truth will hurt your feelings, then you shouldn't ask him a question about the quality of your birds because he will tell you exactly what he thinks your birds did that day, regardless of who you are," says James.
I once asked Don what his definition of spin was. Don responded:
"It has to be pretty when you look at it. That's the only way to describe it. But it's got to be tight, fast, and straight. Depth is important, too, as long you don't lose the quality. But I don't think every bird spins right every time either. So you gotta be careful watching them spin every time and never presume if it did spin right once, it will always spin the same. You will hear it from some people that these birds are Rollers and not Spinners. To me, that's a stupid remark. They are called Rollers, but they need to spin right to be scored," volunteered Don.
When I asked Don Greene, "So, Don, I heard you are a good judge!" Don laughed and said: "You probably will hear a lot of different opinions about that." I protested and said, "I was told you are a good but very tough judge. I heard you don't score junk."
Don tried to explain his perspective of a good performer and how it should be judged. Like James, Don, too, used professional sports as an analogy to prove his points. To me this was very interesting to notice why they both used professional sports to explain things in Rollers. Was it because of their competitive personalities with relations to sports or because it was easier to explain things using sports since most Americans love watching professional sports? Perhaps it was both! "Well, you know baseball doesn't score 'almost runs'," explained Don. "Basketball doesn't score 'almost goes in,' and the same goes for soccer since there is no score for 'almost goes into net.' You see, this is one of the reasons I don't compete anymore because people nowadays score junk, and when they see a good spin, they then try to multiply it with something else. That's not the way it should work, I don't think. People invite me to judge their birds in other states like Indiana, Ohio, Texas, etc. One time I was judging in one of those states, and one of the guys made a statement after a fly and said, 'But you didn't give me any multipliers.' I said: 'No, I didn't give anyone any multipliers. I only scored what deserved to be scored.' He couldn't believe what I told him, and he started to argue with me. So I showed him the names of the top five scores of the fly, and asked him to tell me which one of these five people he would want me to declare as the winner because all I'd have to do is use simple mathematics and give someone a little more multipliers to make him the winner. So I don't use multiplier points because to me they are not multipliers, they are manipulators. In one other place, a flier came to me and asked me why I gave him very few points. He didn't argue about who won since the winner I declared deserved to be the winner of the fly, but he was arguing about points. So I told him I can give everyone an additional 500 points, then add their actual score on top of that 500 points, if it will make him feel any better," chuckled Don Greene. "I guess for some people score is more important than quality."
James remembers Don's reactions to his birds after they finished scoring. "As a rule, if Don was giving me a hard time about my birds after he saw them fly, I knew I did really well that day. Otherwise, Don would not say a word, and I would know he was not impressed. If I asked him, however, he would tell me exactly what was missing in my birds' performance that day," admits James Turner. "When you have a good friend who has high expectations on quality and who is as competitive as you are, he will make you a much better Roller flier in time, and that's exactly what Don and I did for each other over the years," reflects James.
"There was only one thing Don didn't care about much," continued James. "He didn't like self-colored birds. He preferred those pied birds with white flights. I remember one time I had this indigo check-self bird, and she was really good. When Don was the judge for the fly, I would remove that bird from the kit, and others would ask me why. I would say, 'Heck, he won't score her anyway,' chuckled James. When I asked Don about that indigo check-self hen, he said: "The problem with self-birds is they show their faults if they had any. A white-flight will hide any faults when they spin, and that's the only reason I preferred to fly white-flighted birds. Self-birds simply don't look right when they roll, I think it's the illusion. But, I did score self-colored birds if they rolled correctly," admits Don Greene.
When I asked Don Greene what it was like competing against James, he said: "You know, there is only one thing James and I will disagree on. If you are from South Carolina, you would understand this. I am a Clemson football fan, and James likes South Carolina. That's the only thing we won't agree on. He is a true friend of mine; he knows I would be there for him if and when he needs me, and I know he would do the same for me," Don Greene exclaims proudly. "Competing against James was always fun; I enjoyed it a lot. I think in the existence of the Foothill Club, there was only one other fly winner besides me and James. It was always a toss-up between James and myself—whoever had a better day would win. You never knew. We were each other's main competition although we had many other good fliers in this region. But we never got too serious about the competition or got angry at each other, and I think that's what made James and me different from most guys," says Don Greene.
According to James Turner, both Don Greene and he have very competitive personalities and egos, and this really enabled these two good friends to become better competitors and fliers over the years. They both made sure that they had good birds to compete against each other. They simply wanted to win fair and square without luck, without bad weather, and without BOP problems, which could affect their bird's performance on fly days. They wanted to win when they both had a good fly day. "One time, Don gave me a bird and said, "Take this bird home and fly it," recalls James. "This was a recessive red bird, grandson of 929. HS50, a black white-flight cock bird was the son of 929 and HS50 was a better breeder as far as Don was concerned; in fact, HS50 was the reason why Don let me have 929. But he let me have this recessive red bird, a son of HS50, and asked me to carry it home and fly it. A few months later, he asked me if I flew that bird, and I said yes. He said, "How good is he?" And I said, "He is really good. Don was surprised and asked me why I don't fly the bird in the competition then if it was that good? I told him that I don't fly birds in competitions that I haven't banded. Then Don said: 'Well, give it back to me then, if you won't fly him,' chuckled James. And just like that, I gave it back to him. But the point I am trying to make is that if we wanted a bird from each other, we had no problems sharing. Just like Tony and I exchanged mostly color genes over the years, Don and I exchanged mostly good performers," says James Turner.
I asked James why he never flew birds that he did not band in competitions. He replied, "To me, it was a personal satisfaction that if I were to win, I wanted to make sure I did it with the birds that I raised and with the birds that I trained and fed. There is nothing wrong with exchanging birds with others, and I did not mind doing that with guys like Don Greene and Tony Roberts. But everything I did pertaining to performance and genetics of the birds was a personal challenge for me. Even when I raised show pigeons, I always wanted to produce the best looking youngsters out of them. But when I got what I wanted, I moved on to the next color project. With regards to performance, you could never get that perfect Roller like you do in fancy breeds because there is always room for improvement when it comes to performance. You just wouldn't want a champion in air only. You would not want a champion only in breeding loft either. You should want a bird that is a champion both in air and in breeding loft…and if it has the pretty colors, it's even better! But that's hardly ever happens. I think this challenge in Rollers is the reason I get up every morning and try my best to improve my Rollers. I always wanted to breed the best-performing and the best-colored birds I possibly could. But with Rollers, the challenge is always there because when you raise competition Rollers, there is always, always room for improvement. So the challenge of raising good-performing birds was probably there to satisfy my ego. I simply wanted to win with the birds that I have raised and trained. I flew some of these birds that were gifted to me, and they were really good performers, but when somebody was there to score them, I only flew the birds I banded," confesses James.
In my first phone conversation with Don Greene, to my surprise, Don said: "Arif, so I hear you are really good in genetics." I assumed James must have shared with Don my interest in learning genetics. "Well," I said. "I am practically a rookie in genetics, and I probably always will be because there is so much to learn. It's a never-ending journey, but I am doing my best to learn pigeon genetics from experts like James." Don laughed and said, "You know, we all did! I am simply amazed by how much James knows about genetics and what he can do with his knowledge. See, guys like me don't have to know anything or do anything about genetics because James has already done it for us all. When I breed my birds, I have no idea what color I am gonna get except for the fact that I know they will look pretty because James took my birds when he first started, and he took my spin and put his twist on them. By that, I am not bragging and saying he took my spin or I invented the spin and gave it to him. I am saying he took the performance of my birds and improved their performance with his genetic knowledge. Most people will argue with that and claim it's not possible, but he did it. He improved the spin of good birds and even added colors to them. People can't believe that until they actually get to see his birds fly," said Don Greene.
Don couldn't say enough about his good friend James so I decided not to interrupt him.
"Quality of performance in Rollers that James and I breed for or look for is the same, but that's not the only passion James has. He also takes the color that he wants and makes it spin. He takes spin and makes it a color, if that makes any sense to you. Not many people can understand what James has been doing with his Rollers. He doesn't take a certain color and teach them how to spin; he takes the spin and adds color to it. I was never interested in doing that because James made it too easy for me. Let me tell you a story: One day, I asked James how to make an andalusian color. He said: 'just breed an indigo with a spread black. Half of what you breed should be andalusion and the other half should be black'. Well, he was right the first bird I raised was half andalusion half spread, you know one of those mosaic birds. So, I called James, so proud of myself, and told him that he was right! I got a bird that is half andalusion and half black <laughs> and James said: 'not in the same bird, you idiot!, what you got is a mosaic' <laughs>. But you see, I can't even make an andalusian on my own, so I let James do all the hard work. To be honest, I never had to learn to do it myself. If I wanted a pencil bird, he would give me a pencil bird. If I wanted to make more, I would get another one from James and make my own pencils. Same went for reduced, andalusian, you name it. James did all the hard work for everybody and gave birds to whoever wanted them. One of the things that makes James so different from most is not that he is just a good trainer, because there are many guys out there who are just as good a trainer as James, who know how to fly and train birds. But James is also a really good breeder. He knows how to make more spinners. I guess it's because he knows the genetics. I think that's what separated him from the rest of us since we all had the same family of birds to start with. James knew how to produce more spinners. I saw a lot of kits fly over the years and I judged many flies, but without a doubt, the best kit of Rollers I saw in my life was in James's house in his heyday. I think the other difference between guys like James and I compared to some other folks is that when the birds were not doing what they were supposed to be doing, we saw it, we knew it, and we weren't afraid to talk about it. Some people refuse to see the problems of their own birds, and some of them are unable to see the faults of their birds. I also think James and I helped each other to become better fliers over the years. I always tried to beat him on a competition day, and he always tried to beat me. We kept challenging each other to fly better quality of birds. Our competitive natures also helped us along the way, too. We both don't like to lose, yet we never got angry at each other, he has always been a good friend to me," volunteers Don Greene.
"Let me tell you something else that made James so different from most," continued Don. "Most of these so-called famous people in the hobby are self-made men, in my opinion, because everything they said good about themselves were told by themselves. James has done more for the hobby than any man I know, but he has done it quietly. He was never one of those self-proclaimed guys who advertised and used his birds to get famous. This is why James Turner truly deserves to be a Hall of Famer because James has always produced great spinners with pretty colors, but most importantly, he has always been generous. If you've ever been to James's house and if you ever liked a bird there, I would bet that he'd give it to you, wouldn't he? You gotta be careful with him because he will take his best bird and hand it to you. He always tells me there is no bird in his backyard that I can't leave with. Now this says a lot about the man, and he never gives junk to anyone," says Don Greene.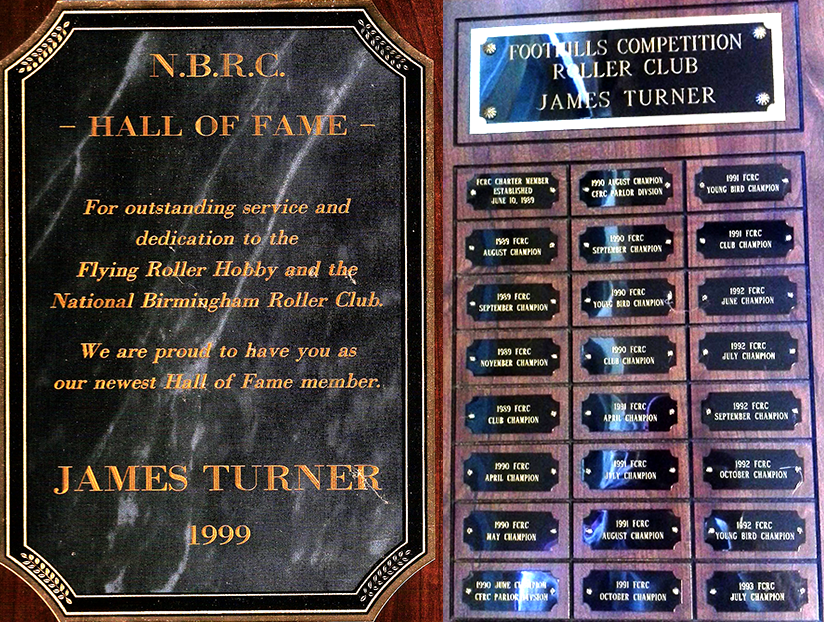 Hall of Fame plaque & winning records of James in FCRC
Jay Yandle of High Point, North Carolina, a former President of the NBRC during the years of 2008-2009 is one of the most respected judges and roller men in the USA today. Jay calls James a friend/mentor and can't forget meeting James in person for the first time: "I met James in 1996 when I went to meet him and Tony Roberts and have stayed in contact with him ever since. I was also into learning genetics and I heard James had some good birds. I can tell you that meeting James in person made a huge impact in my breeding program and my view of the hobby. In 1998, I asked James if he had some birds that I could buy from him. He said: no he didn't have any birds for sale but he said he had some that I could borrow. This was around August of 98. James told me I could borrow them before the breeding season but he wanted them back by Thanksgiving. He gave me 3 pairs to breed and Double-o-seven was one of them. At that time I may or may not have heard of Double-o-seven but I certainly didn't know how important this bird was, and how important he would be to my breeding program. Until that time I had never fostered any eggs, but I knew I had limited time to breed out of them before I returned them back to James. Thinking back now, and knowing James well enough, I can't say that I was surprised James let me borrow Double-o-seven. That bird was so valuable, and probably priceless to James but he didn't mind sharing it with me. James is known for this kind generosity to share his best birds with anyone. If you are friends with James and if he knew you needed something that he had, he's just the kind of guy who would give you the shirt off his back. His generous personality affected me in a way that I believe I became more generous in general because of him," reflects Jay Yandle.
Larry Williams and Johnny Rhoads joined the FCRC in the mid '90s and flew with them till the end. When Larry and Johnny were looking for some Rollers in the beginning, they first went to North Carolina to acquire Rollers. In North Carolina, they've met some guys who were generous to them, but they were informed by the North Carolina fliers that they should have visited James in their own state instead of coming all the way up to North Carolina. So they gave them James's phone number and address and Larry and Johnny went to meet James. They've been friends with James ever since. "We joined their club and flew five to six years with them until the club dissolved. James really flew good birds, and nobody could beat him in that club. He kept a really close eye on his birds. He knew how to breed them and how to make them roll. There were other good fliers in that club, too, like Don Greene, Don Simpson, J.W. Mize, Johnny and I. We won a few flies but not many. James would win most of the flies," recalled Larry Williams.
Larry still flies what he refers to as the "Thompson family" of birds that he originally acquired from James Turner. "You could not meet a finer gentleman than James in this area," says Larry. "Over the years, I saw him help a lot of people; he gave a lot of good birds away. Even when he became the NBRC president, he did the best he could to help the hobby and help the people. Every time I needed a bird, James either gave me some or loaned me some, no questions asked. James and Don Greene were the only people who helped Johnny and me in the beginning. The other guys were too competitive, and they didn't want to help us. James would give us good birds and tell us what he would do with them, but none of us could understand this family the way he did, so it was very tough to beat him. He gave us his best birds, but we still had to figure out how to breed and feed them, and James knew just how to manage them better than anyone else. He gave us what we needed to win. It was just a tough region to win most flies. Back in his heyday, I don't know if anyone could beat James unless he had a bad fly day. Don Greene or occasionally others would win a fly if James didn't, but at the end of the year, nobody could come near James's overall score. He knew what made his birds click. He is also a more intelligent man than most people I know. He knew their genetics like no other, and guys like us never needed to learn any of that stuff. James would give us any color we asked for. Besides, it was a lot of work to learn genetics, so we never messed with it," laughs Larry Williams.
When I asked Larry why the other guys did not help him; after all, they were not winning most flies anyway. Larry chuckled and said: "I guess they didn't want us to beat them, too, like the way James did. It was bad enough for them that James would win most flies, and there isn't much they could do about it. But we had fun being part of that club. Don Greene was the jokester, but he would also tell us what Rollers were supposed to be doing. Don was also a hard judge. When we first started, not only Don Greene and James Turner gave us good birds, but they would also help us any time we had a question. They would tell us what the rules were, what to look for, and stuff like that. They were always there to help us if we needed anything. That's probably why we didn't spend a lot of times with the other guys. That's also probably the reason we didn't get discouraged and leave the club. James and Don have always been very generous to us. I miss those good ol' days," confesses Larry.
Unfortunately, starting around the year 2000, the local clubs started to die off slowly with the National Birmingham Roller Club (NBRC) getting too strong and turning away fliers from competing in 11-bird competitions. This has alienated many local club members from the competitions since a 20-bird fly meant that most locals had to change the way they bred and selected their birds for the 20-bird competition. The majority of the locals were reluctant to give up the quality and depth in exchange for mediocrity, but unison breaks that the World Cup and NBRC's 20-bird fly rules encouraged and rewarded. While few fliers wanted to participate at the national level and didn't take the local club flies as seriously anymore, it divided and eventually dissolved local clubs. James recalls many good fliers quit flying altogether in his neck of the woods in any competitions because they didn't like the 20-bird fly rules and the fly season of the NBRC's National Championship Fly. Flying their best birds during hawk season didn't make much sense to anyone when the only option left was to compete in the World Cup, which was held during a much better season, but the World Cup only held 20-bird competitions.
Thus, the 20-bird fly and the time of the year where NBRC's National Championship Fly was held forced many good fliers to stop competing at all levels. For the ones that wanted to still fly for the sport, there were additional challenges waiting for them at the national level. The best part about local clubs and their competition was that people in one area knew each other well, and for the most part they all got along. When they held fly events, it was more than just driving to people's houses and flying birds. It was a family event where they brought their family to have a BBQ at the end of each fly and just socialize and interact with one another. It is easy to get along with people if you live in the same area as them, speak like them, dress like them, act like them, etc. In addition, they were mainly flying the same family of birds, so there were no prejudicial discussions and name-calling over color vs. performance, pure vs. mongrel, original Pensom import vs. American Rollers, etc. Lack of in-person contact between fliers of different states also created impertinence among fliers. People started to hate one another for nothing more than flying other strains of Rollers. It became hard to explain to novices why two Roller people from two different parts of the country didn't like each other even though they had never met before. Weren't pigeons the reason why so many good friendships started? Yet on the national level, it started to create animosity among fliers. The main reason for this, everyone would agree, was the lack of personal contact because these same people who couldn't stand each other would have perfectly normal conversations if they got together in person at the National Young Bird Show or at any NBRC Conventions. It became evident for James and his friends that lack of personal contact created a lack of respect and animosity. "The main reason that I finally decided to quit flying in competitions was because competition became too political and too controversial and took all the fun away from the sport," reflected James.
Don Greene also quit flying competitively soon after the World Cup and NBRC's National Championship Fly took over the nation. "I think I flew for the World Cup and won our region a couple of times along with James, but neither of us flew in the finals. We gave our spot away to other members because neither of us felt we needed to travel all the way to North Carolina to pick up the World Cup's judge and bring him back to North Carolina for his next flight. Politics made flying not fun anymore when people expect you to do everything, including their own job," says Don Greene. "I never flew or quit shortly after joining the NBRC as well. Let me ask you something, what's the problem with fall other than the fact that it's fall?" asked Don Greene. I said, "Hawks?" "Yup!" he said. "Because of the hawks. I still don't know why NBRC National Fly is scheduled in the fall because I don't know many people who would fly their best birds and lose them to the hawks, flying them during the hawk season. I was asked to judge the NBRC flies a number of times, but I refused to fly my birds in the fall. So after James quit flying, I tried to hang in there for as long as I could, but when I did the schedule and planned for everything for the Backspin Classic, I then understood James's vanished feeling towards the competition. I realized why he quit; it's because he was expected to do everything on his own. When I started to judge in other states, I realized that everyone thought they had the world class kit of birds. I really don't think everyone should fly for the World Cup unless they have really good birds to compete. I guess this is part of my personality. I don't know, but if I don't have a good kit to fly, I would rather not fly. When you are flying in the World Cup, you should be flying the best of the best. If I don't believe I could win, I would not participate in that game. It wastes my time and the judge's time and it costs a lot of money to fly in the World Cup. Why would they waste the judge's time by flying non-scorable birds? What good is participating in something if you are not ready for it?" complained Don Greene. When I decided to play the devil's advocate and said: "Well, because fliers want to be part of the fly, it's one way to learn, and it is also a good way of supporting the fly if you participate." Don said: "I really don't see how that is supporting the club or the fly. They take your money, which hardly supports the expenses of the judge. Then they had to take somebody else's money, too, so that you could fly. I don't see how that is supporting the club. It's more like donating money to support someone else. But anyway, I also quit because when James quit, I knew I wouldn't enjoy it anymore," says Don Greene.
As much as James hated quitting to participate in competitions, he also knew he was not enjoying it any longer. But when he was asked to describe his flying competition years, he would say those years were some of the best times of his life. "Back when I was responsible for two plants, my job was very stressful. But the first ten minutes of our Monday morning staff meetings, we would just socialize and ask each other how our families were doing and what we had done over the weekend, etc. When they asked me about my weekends, I would tell them how good I felt. They would ask what I had done, and I would tell them, 'Last weekend, I rolled all my trouble away!' They would look at me and say 'What?' I would tell them I had spent some great time with my pigeon friends, flying birds and just having a good time. And every time our Rollers rolled, they rolled all my work stress and troubles away," says James. "I really, truly miss those good times, and it is not because I flew some good birds and won flies. Because back then we all flew good Rollers and we supported each other. We started great friendships by just flying and sharing good Rollers without any agenda, conflicts, or politics," admits James.
I once asked James what the secret was of winning consistently? What was he doing differently from others, and why was he more successful than most others? James said:
"Arif, you ask some really good questions. It is amazing that when these questions are asked, I realize I have never thought of answering these questions; perhaps nobody asked them to me the same way you do, or it has been awhile, and we tend to forget to question things that we have been doing for so long. But I think we do most things our own way, and we don't stop to think about what we are doing since it is the natural way of how we do things. Some people are convinced that I am smarter than most people, and that's the only reason I was successful at what I was doing. Well, that's not really it. I also didn't have better birds than anyone else when I first started. We all had the same family of birds that came mostly from the same sources. So anything I had was also available to anyone else. But I think the main difference between others and me is that I worked harder on improving the quality of my birds. I didn't know the secrets of flying good Rollers because as far as I know, there aren't any secrets. Like anything else, if you want to be successful at something, you don't have to do anything special except to work hard at it, but most importantly, you have to be open-minded to challenge traditions and pay attention to the smallest details…and those are the real keys to success," volunteers James.
Innovation is hard because it requires things that are not easy for the most part. It also requires challenging things that we take for granted, things that are obvious. When Roller guys, especially the newbies that first get started, they immediately start copying what the veteran fliers have been doing for years, which is perfectly understandable. However, most people wouldn't even dare to think about changing things and trying different things. I suppose the general problem for transformation is the tyranny of common sense. People would say it can't be done any other way because that's the way it has always been done. Thus, many of our ideas, whether it is flying Rollers or other things in general, are designed to fit the circumstances of not this century, but they are designed to fit in with the conditions of the previous century. It seems our minds are still hypnotized by the way things have been done by our ancestors, and it can be very hard for us to disentangle ourselves from this kind of thinking. But guys like James Turner have a unique personality that will challenge the known ideas and change our thinking. That personality requires intelligence, hard work, and the ability to stand against all criticism to accomplish and eventually reform the way things have been done. Being good at something also requires a lot of passion and, consequently, a lot of effort. It is obvious that when we work hard at something, we become good at it, and when we become good at doing something, we will enjoy it more. When we enjoy doing something, there is a very good chance we will also become more passionate about it and work even harder to excel and be the best at it. Therefore, it would be meaningless to follow our passion without putting any effort into it. Inevitably, working hard at things that we like will lead us to our passions and to our successes. I believe these are the exact qualities that separate guys like James Turner from many of us.
All rights reserved © April, 2016 by Arif Mümtaz..